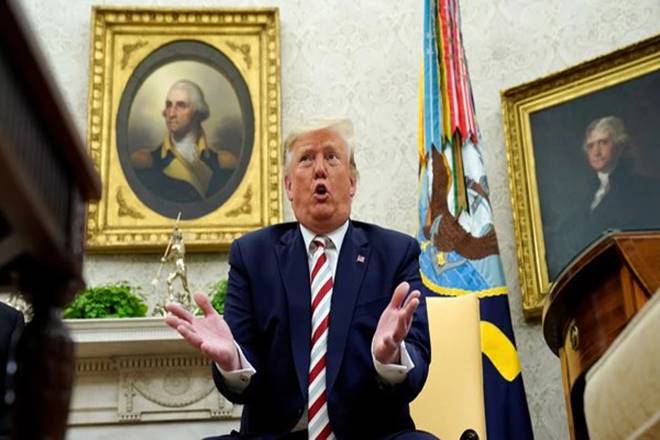 Post Trump-tweet, new-lows in Pak-US relations are likely to prove temporary as both countries need each other in war-on-terror and a geopolitical win-win.
Backchannel diplomacy has begun between Pakistan and United States of America to bring both countries on the table to talk regarding the recently hyped mistrust after President Donald J Trump's New Year Day's surprising tweet, warning Pakistan for the alleged non-cooperation in combating terrorism on Afghanistan's soil.
The initial talks, started a week after the US suspended Pakistan's security financial- assistance, focus to understand each other's point of view on this seriously developed mistrust and break the ice, a senior official in Pakistani foreign office, requesting anonymity, said. Among the efforts, a high-level delegation of the US officials has quietly visited Islamabad which is likely to be reciprocated by Pakistani side soon.
In the similar efforts, Commander US Central Command (CENTCOM), General Joseph L Votel and a US Senator made separate calls to Pakistani Chief of Army Staff General Qamar Javed Bajwa in the past few days "to discuss the security cooperation between the two nations post US President Donald Trump's tweet."
President Trump surprised in a tweet on January 1 by lashing out at Pakistan for not fulfilling commitments with his country to combat terrorism. "The United States has foolishly given Pakistan more than 33 billion dollars in aid over the last 15 years, and they have given us nothing but lies & deceit, thinking of our leaders as fools. They give safe haven to the terrorists we hunt in Afghanistan, with little help. No more!" he said in his tweet that halted security and intelligence cooperation between the two countries within no time.
Alleging Pakistan of "double game" in "war on terror" on Afghanistan's soil, American top authorities also said that since 9/11, Pakistan has consistently played a double game, providing just enough sporadic assistance in capturing members of AlQaeda and logistical support for our forces to give an impression of helpfulness, while at the same time, harboring, training, and assisting violent extremist groups such as the Taliban and the Haqqani network that have killed thousands of American Coalition, and Afghan soldiers and an even greater number of innocent Afghan civilians.
The situation further led in suspending up to about $2 billion in security aid to Pakistan and also putting country's name in a "special watch list" for religious freedom violations along with "warning" for more sanctions. Pakistan, from its side, wants American help in controlling India, which, allegedly, is fueling terrorism in Pakistan through Afghanistan soil. Pakistan also believes that India is behind fueling Pak-US tension having a good say in President Trump's administration.
Reportedly, the fiscal year 2017's appropriated amount of US security assistance to Pakistan was around $300 million. Actual disbursements are often lower. The Coalition Support Fund authorisation was around $1 billion annually for fiscal years 2015-17, but between a third and a half of it was already conditioned on Pakistan's anti-terrorism performance and withheld. However, both sides have not given details of the amount yet.
Pakistani authorities, reacting to these cuts, said Pakistan would continue to safeguard its "national interest" amid geopolitical concerns and would not care for any aid suspension rather "dignity" and "respectful mutual cooperation." Pakistan also believed the US has undermined more than 70,000 deaths of civilians and security forces in Pakistan while fighting this war-on-terror over the years.
"We are engaged with the US Administration on the issue of security cooperation and await further details. We are determined to continue to do all that is necessary to secure the lives of our citizens and ensure broader stability in the region. Working towards enduring peace requires mutual respect and trust along with perseverance. Emergence of new and more deadly groups such as Daesh in Afghanistan, require enhancement and strengthening of international cooperation. Arbitrary deadlines, unilateral pronouncements and shifting goalposts are counterproductive in addressing common threats," Dr Muhammad Faisal, Pakistani Foreign Office spokesperson said in his weekly press briefing further confirming the backdoor talks between the two old but mistrusting allies.
In the latest developments, Pakistani army chief informed Commander CENTCOM General Joseph L Votel that the "entire Pakistani nation felt betrayed on [the US] trivialising our decade old cooperation. We won't ask for restoration of financial assistance but honourable recognition of our contributions," reiterating the statements across the country. On the other side, Gen Votel valued Pakistan's role "towards the war on terror and expected that on-going turbulence [between the two countries] remains a temporary phase". He insisted that the US is "seeking cooperation to tackle Afghan nationals who, according to the US, use Pakistan's soil against Afghanistan," as per Pakistan Army's spokesperson's official statement on the ice-breaking telephonic-conversation.
Pakistani foreign minister Khawaja Muhammad Asif, in his recent briefing in the Senate and National Assembly, mentioned that the most pressing demand of the US from Pakistan is to take action against Haqqani network, a group of Afghan Taliban allegedly backed and sheltered by Pakistani establishment. In the recent visits of the US Secretary of States Rex Tillerson and Secretary of Defense Jim Mattis to Islamabad at the end of last year were specifically focused on the pressing demands to take action against such militant group operating in Afghanistan using Pakistani soil and targeting American, NATO, Afghan forces and Afghan civilians.
While, after the suspension of security-aid, Pakistan Army spokesperson Major General Asif Ghafoor said in his press talks that they have targeted Haqqani network on different occasions and one should wait for the time to see the impact of these actions.
"Seeing the mistrust and anger on both sides, it seems it will take time and considerable effort to repair it, Raza Rumi, currently America based scholar told Truth Tracker, pressing the need for a serious civilian input on both sides to ease out the situation. He said this is the time for diplomatic engagement and redefining the parameters of an alliance for a win-win situation and having a consensual policy to combat terrorism.
"America wants Pakistan to get it to deliver on America's principal demand to take action against the Afghan Taliban and Haqqani network. And in this situation the possibility of a serious Pakistan-US discussion on finding a way forward on Afghanistan will dwindle further," Pak-US expert Moeed Yusuf, however, said.