Lahore. Residents of slums and over populated areas of Lahore are forced to drink contaminated water, a mixture of sewer and potable water, being supplied by the state.
Right across the open drain running through Bihar Colony is Afra Technology Park, the symbol of Lahore's foray into information technology.
The residents of Bihar Colony at times wonder where do they belong; the posh localities, like Model Town, which run parallel to their abodes or the filthy, neglected, and smelly area called Bihar Colony, where they are forced to drink dirty water.
Approximately one million people drink contaminated water in Lahore, says the 2014 annual report on drinking water released by Lahore's Water and Sanitation Agency (WASA).
Water samples tested by WASA in 2015 showed water supplied in Lahore is contaminated with E-Coli, arsenic, suspended particles, and bacteria.
WASA provides water to six million people in Lahore city using 517 tube wells. The depth at which these tube-wells extract water varies between 150-200 m.
Bihar colony is not the only area where contaminated water has wrought havoc on the lives of the poor Pakistanis. Mecca Colony, Ittehad Colony, A-One Colony and Qurban Lines, while some parts in Ichra, Mughal Pura and Taj Pura, Badami Bagh, Wassan Pura, are part of the long list, says Dr Murad Raas, Member of Punjab Assembly from Pakistan Tehreek-e- Insaaf.
"The areas mentioned above are surviving on sewage and water lines installed 40 to 50 years back. These sewage pipes had the capacity to handle a few thousand houses and as many people. As the population increased, the load almost quadrupled putting pressure on the lines. The result has been leakage and mixing of sewer water into the drinking water whose pipes are laid along the sewer pipes," says Raas.
Hepatitis C and gastroenteritis are common diseases inflicting people drinking unsafe water in these localities, added Raas.
Talking about the priorities of the government, Raas recalls his visit to MD WASA in 2013 after becoming MPA. "I was told that approximately four billion rupees would be required to lay down new sewerage lines in my constituency PP-152." This government has spent from eight to 10 billion rupees to build signal free corridor at Jail Road, but they do not have money to facilitate poor people who are living a miserable life drinking unsafe water."
News Lens Pakistan talked to a few residents of Bihar Colony to find out the real picture of the situation.
Farzana Adil, Staff Nurse at Pakistan Society of Rehabilitation of Disabled, said that they get black and yellow color water that stinks most of the time. "Relatively cleaner water comes at night around 11 O'clock or four in the afternoon. Other than that we get dirty and smelly water."
Danish James, a student at Lahore Leads University, was spotted by News Lens Pakistan at the local water filtration plant, where he had come to get filtered water at Rs 40 per/20 Litre.
"Tap water is not fit for drinking or cooking. At times, it stinks so much that we can hardly take a shower with it. We are a family of five and use 40-liter water every day. Water that I buy from a local filtration point is used for cooking and making tea etc. We buy branded mineral water from a local bakery for drinking purposes," said James.
Many houses have installed what is called Missile water pump (it is called missile pump because of its shape, resembling missile). This pump, according to Mrs Joyce, digs water from 200 meter due to the low water table. It costs around Rs. 60,000 to install this pump. "Ever since we have installed the missile pump there is no shortage of water at our home."
Sara Qadir Buksh, an activist working with Talitha Kumi Welfare Society, an NGO, told News Lens Pakistan even stinky water comes intermittently. "For example from March 25 to April 17, not a single drop of water came at my home. Later I was asked by the WASA to get a new connection for which I spent Rs 18,000."
Shunilla Ruth, PTI Member Punjab Assembly on reserve seat told News Lens Pakistan about the debate she generated in Punjab Assembly on unsafe drinking water in her constituency NM 371, which includes Bihar Colony. She regrets that nothing much has been done so far.
According to a case, Evaluation of Drinking Water Quality in Urban Areas of Pakistan, the causes of bacteriological contamination includes, old and rusted water main, laying of water supply pipes close to sewer lines, broken water supply system, and overloaded sewage channels.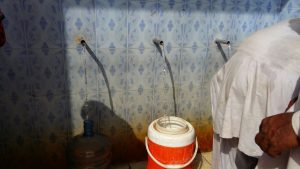 Punjab government has started 'Saaf Pani,' project to provide safe drinking water to rural areas of Punjab. According to an unofficial estimate, around 200 filters have so far been installed in 280 union councils of Lahore.
Thirty billion rupees have been allocated for the project in 2016-17 Punjab Budge. The government intends to invest the entire budget in the present fiscal year otherwise 11 billion would be used this year and the rest in two different phases.
In the fiscal year 2015-16, a total of Rs 11 billion rupees was set aside for "Saaf Pani Project." According to Raas, only 4 billion rupees were used on the project while the rest was diverted to Metro Bus Project.
Another issue about Saaf Pani Project, Raas identified is the maintenance of the filtration plants because of which many plants are already not fully functioning. WASA does not carry out any monitoring program to evaluate the water quality on a regular basis.
Chaudhry Naseer Ahmad, Managing Director WASA, told News Lens Pakistan that indeed the situation in Bihar colony and other areas was deplorable. He said that the government had allocated Rs 500 million in the new budget to change sewage lines of a single constituency in Lahore.
"You talk about dirty water; people are not getting water at all. On the top of it, people have installed water pump that sucks water from wherever it finds it, even sewage lines," said Ahmad.
According to MD Wasa, there are 517 tube wells in Lahore and most of these tube wells are inefficient. As per plan said, Ahmed, 105 tube wells would be replaced with the funding provided by Japan International Cooperation Agency and 45 by the government of Punjab.
The government so far, informed Ahmad, has installed 43 new Tube-wells in different localities.