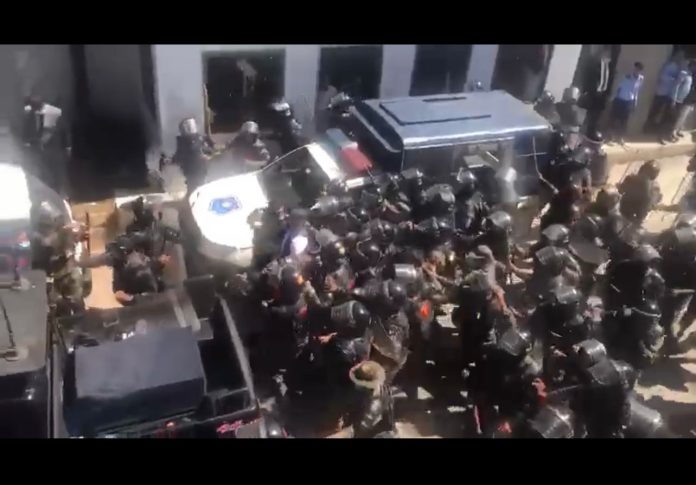 Ex-Prime Minister has been arrested by (NAB) National Accountability Bureau from Islamabad High Court in Al-Qadir trust case.
The PTI chairman was taken into custody in Al-Qadir Trust case by Rangers from Islamabad High Court where he had gone to seek bail in multiple FIRs registered against him.
The Ex-Pm was taken into an armored vehicle by the law enforcement agency.
IG Islamabad has confirmed that Mr. Imran Khan is in Rawalpindi's Police custody.
The warrant was issued by NAB Chairman Lt. Gen (retd) said that " Imran Khan shall be produce before the court for the authoritization of detention for such period as may be necessary for the finalization of the inquiry investigation."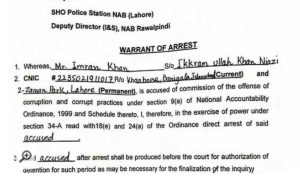 Fawad Chaudhry a senior member of Pakistan Tehreek e Insaf has confirmed his arrest, he said " Islamabad High Court premises have been attacked by Rangers and the police, Imran Khan has been arrested by Military Authorities."
Rangers abducted PTI Chairman Imran Khan, these are the visuals. Pakistan's brave people must come out and defend their country. pic.twitter.com/hJwG42hsE4

— PTI (@PTIofficial) May 9, 2023
Shiree Mazari also tweeted on the arrest of PTI's Chairman she wrote " State terrorism- breaking into IHC premises to abduct Imran Khan from courts premises."
State terrorism – breaking into IHC premises to abduct Imran Khan from court premises. Law of the jungle in operation. Rangers beat the lawyers, used violence on Imran Khan and abducted him. pic.twitter.com/3CJOVO2nFJ

— Shireen Mazari (@ShireenMazari1) May 9, 2023
Senior journalist Mubasher Bukhari while talking to News Lens Pakistan on the arrest of PTI's Chairman said "It was not the proper method to arrest PTI's Chairman, it will make him a victim and IHC vigilance is strange that he should produce him within 15 mins."