Peshawar: Jan Mohammad opens the lock at the gate and enters the printing and publication factory at Hayatabad Industrial Estate in Peshawar. The 70 year old labourer looks around at the hulking machinery shrouded in plastic and cloth, static and abandoned. The place looks like a junkyard for heavy machinery, gathering dust and rusting as it stays frozen in time. In the pool of shadows that have come to occupy the workshops and corridors of the factory, nothing stirs.
It is hard to imagine this desolate place as something functional when Mohammad says that once the factory, where he has worked for many years, buzzed with incessant activity.
"The owner just sold two units of machinery for a very low price," says Mohammad, as he looks around the place with hollow eyes. "I am afraid the day that he will sell the entire factory will come soon and the labourers that worked here will have no hope of returning to work."
Being his family's breadwinner, Jan Mohammad is worried about his future. As it is, he hasn't had any work for the last four months and is getting desperate, he says. The only job left for him is to take care of the abandoned machinery, cover them properly and remove the covers now and them to clear away the dust and rust. "We had so many people here, this place wasn't big enough for them. Now I roam here alone, keeping it clean in hope that they will come alive again."
In March this year, the Frontier Printers and Publishers Association (FPPA) was up in arms after the PTI government in the Khyber Pakhtunkhwa province changed the old policy that allocated printing to presses on the basis of their capability to an open tender policy which opened the competition to printers from outside the province.  According to FPPA, the policy resulted in "more than 80 percent of textbook business going to printers in Punjab through open tender, forcing the local printers to shut down their units and laying off staff both regular and contractual."
According to Chairman FPPA Iqtidar Ali Akhunzada, industrial machinery worth billions of rupees has been rendered dysfunctional as owners of printing presses in KP were left without work. "The printing press and publishers were running their business smoothly before the open tender policy. No one can say that our quality was lesser than publishers in Punjab."
Akhunzada blamed the provincial ruling party Pakistan Tehreek e Insaaf for having roots in Punjab not in Khyber Pakhtunkhwa. "The government is out to destroy owners and labourers of this province." Akhunzada said there were 500 printing presses in the province run by 8 labourers for 3 shifts. Altogether, he said, there were more than 15000 labourers earning livelihood from the printing industry.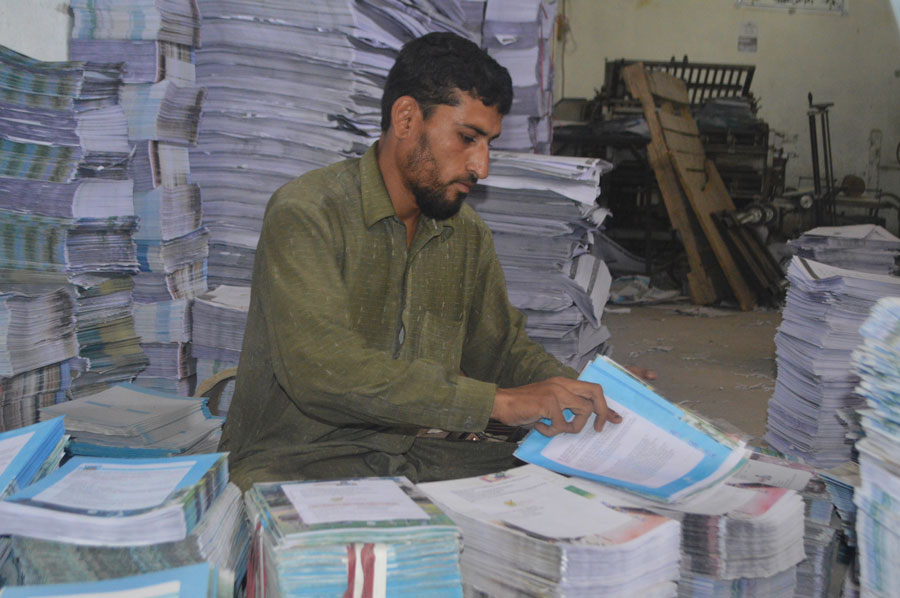 "More than 10 thousand labourers that were part of the printing press industry have lost their jobs in KP," President of the National Labour Federation for district Peshawar Malik Hedayat Khan told News Lens.
Former education minister and opposition leader in Khyber Pakhtunkhwa Assembly Sardar Hussain Babak said in the light of 18th Amendment, only provincial printing presses should be given orders to promote local industry.
However, Atif Khan, the provincial minister for education, told News Lens on telephone that previously the "allocation" of printing to text book board was unjust because the government officials and ministers would only provide the quota on the basis of nepotism.
"The government learned about this "like and dislike" policy being pursued in allocation of printing and therefore moved to change it," said Khan.
He said the issue of closure of presses and labourers going unemployed came about when the representatives of the Frontier Printing Press and Publishers Association didn't participate in the open tender. "The labourers lost jobs due to the printing press owners," said Khan. "We had open tender policy for a lower price. It was competition based on merit."
However, the printing of text books in Punjab has created a shortage of school books in schools", say school book distributers and teachers, because the supply from Punjab is taking time to reach Khyber Pakhtunkhwa schools.
"The physics and chemistry text books for grade 9 and 10 and biology for grade 10 is not yet available in the market," said a text book distributer Muhammad Imran who provides books to 190 middle and high schools in the province. He said it would take them another "week or two" to deliver the books to schools.
Noreen Bibi, a teacher from district Charsadda, told News Lens they couldn't teach Maths and Urdu to grade 5, Pashto to grade 4, English and general knowledge to class 3 because the text books haven't reached the school.
The Education Minister Atif Khan's constituency of Mardan is also facing a shortage of books. Abida, a mother based in Mardan, said her daughters go to school but complain that general knowledge, English and Urdu books for grades 3 and 4  were not available in school or market.
Former education minister Sardar Babak said the text book printing through presses in Punjab was time consuming which would "ultimately impact the provincial education system."
"From text book tender to appointment of leading officials in Public Service Commission from Punjab is actually an attempt on part of the PTI government to secure a vote bank in Punjab by utilizing resources of KP," said Babak.
According to Rashid Khan Paindakhail, former provincial project coordinator for the text book board, changing the policy of text book printing and publishing to the competition based tender  was a positive step but it had led to deficiency of books.
"We used to punish the local printing presses for using poor quality paper, ink and lamination and would sometimes cancel allocation to printing presses for not following rules and quality standards," he said. "I don't think the Khyber Pakhtunkhwa based committee can charge the Punjab based printing press on these basis."
He said the open tender policy may be saving money to the provincial exchequer through competition but such a policy also had "side effects" in the shape of lack of coordination between the text book board committee and printing presses of Punjab and delay in supply of books.