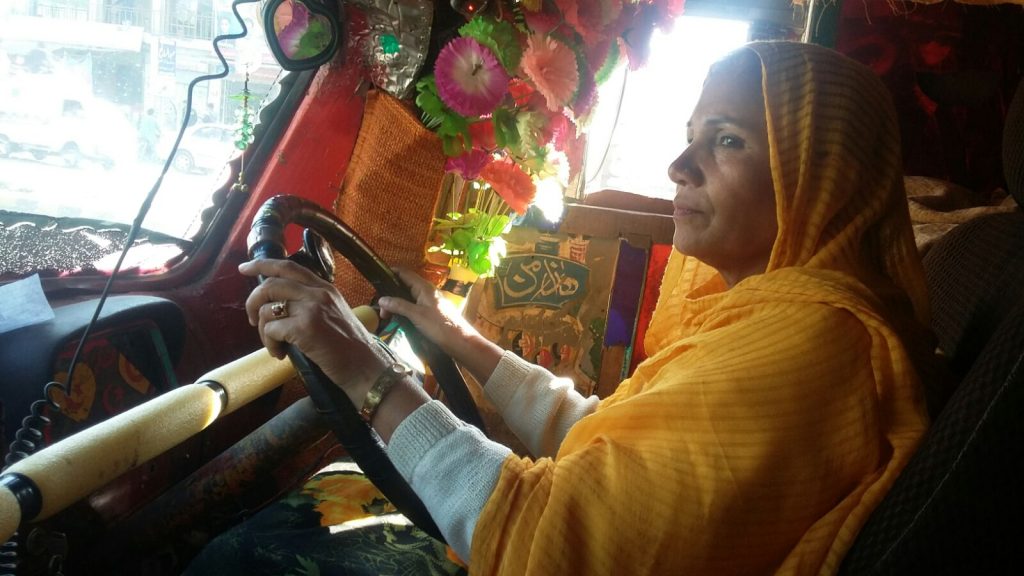 RAWALPINDI: Cars or jeeps driven by women in big cities of Pakistan are not something strange but a lady driving a truck to earn a decent living has rarely been seen on roads.
Shamim Akhtar, 53, is so far known as the first woman truck driver in male dominant society of Pakistan, traffic officials said.
"Some four years back my husband left me and tied a knot with another woman. Now he lives with his second wife. He told me to earn for myself," Shamim told News Lens Pakistan in a chocked voice.
Pakistan is regarded as a vastly patriarchal and traditional society where opportunities for women are restricted such as transport business. Perhaps that is the reason Shamim's husband refused talking to News Lens Pakistan about his wife's occupation.
Dressed up in yellow suit and shawl, she opens the door of her six-wheeler and asks her helper to check the water level in the radiator.
Shamim told News Lens Pakistan that she had four daughters and a son to feed. "I owe Rs. 500,000 ($5,000) I borrowed for my daughters' wedding. My husband never cared since he got married to another woman."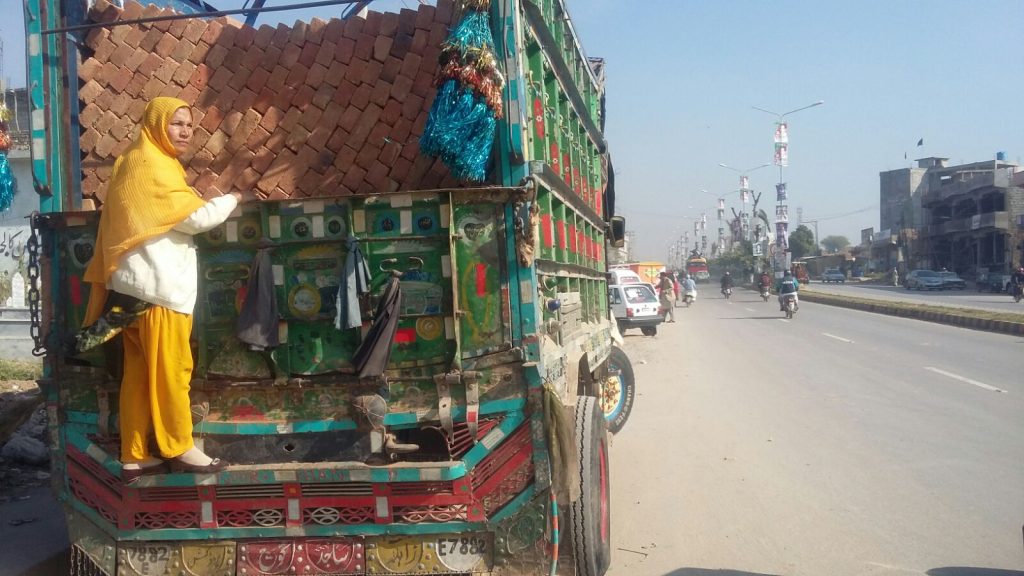 Once a teacher at a sewing school in Rawalpindi (a congested city on the edge of Islamabad),switched her profession to fulfill her long-standing desire of driving a heavy vehicle and to earn more money. "Financial restraints also forced me to earn a livelihood in a descent way and I opted for this profession," she noted with pride.
Majid Iqbal, inspector Islamabad capital territory police (ICT police), told News Lens Pakistan that  Shamim was the first woman who got license of heavy vehicle within the short span of four months.
"We extended all out cooperation to facilitate her (Shamim) to encourage other women to come forward and break hegemony of male dominant transport profession," Iqbal said.
Iqbal calls it a matter of pride for everyone that she is earning with her own hands instead of begging on the streets.
Shamim is known as Shamim Bhai (Brother Shamim) in drivers' community. Her driver colleagues have great regard for her otherwise, she said she would have left her job long before. "I really enjoy my job. My kids and other family members have no objection over my profession because I'm earning, doing hard work and independent."
Driver Falak Niaz 33, a colleague of Shamim says, "She is a woman with courage and great stamina. She drives very carefully equally amid scorching heat and winter."
"We have no problem with having her in the field with us. She earns for her kids by doing hard work," Niaz remarked.
But another driver wishing anonymity said that most of his colleagues have concerns that if more female drivers come to the field they (female) will occupy the market and pose some sort of challenge for male drivers.
Shamim told News Lens Pakistan that some of the drivers didn't welcome her when she first drove the Truck, adding that those drivers feared more female would join the profession, which would challenge male drivers' hegemony.
"But I don't care about anyone. I feel proud that I'm the first Pakistani truck driver. I want to do some welfare work for my drivers' community so that the next generation remembers me in good words," she added.
Shamim is of the view that for being a truck driver one should be a person of mettle with cool mind. Whereas the toughest part for her is when she is out of town for long, "When we go on long route we have to spend sleepless nights, which is hardest part of my duty. I don't have home like environment then."
Shamim said that the duty of drivers driving heavy vehicle was extremely tough but they were low paid.
"Shamim mostly transports bricks in her truck and charges Rs 1000 ($10) per trip within the city. She makes 25 to 30 trips in a month.  However  if she takes a consignment from Rawalpindi to Karachi, which takes her five days to reach there, or for other long distance destinations, she charges Rs 1500 ( $15) per day. But Shamim seldom accepts long route jobs.
She said that a truck driver needs to concentrate on driving all the time to avoid serious accidents. "I'm not technically expert though but I can change the tyre of my vehicle when it gets punctured," she added.
Usman 20— a helper of Shamim— has all praise for his boss. He said that Shamim was too kind and never scolded him as other drivers did.
"She drives very carefully and I'm happy to learn from her. She never loses her temper," Usman added.
Hamad Nazeer 18, the only son of Shamim, said that after his father left them, his mother took on the role of a father as well.
Awais Manzoor Tarar, secretary Rawalpindi Transport Authority (RTA), praised Shamim for her continuous strong efforts towards finding some room (making her place) in the male-dominated field. "She has, indeed, taken a bold step to drive a heavy vehicle."
"Shamim is a role model for other women to come forward, get driving licenses and run taxi cars, which will also make female passengers feel more secure and comfortable," Tarar underlined.