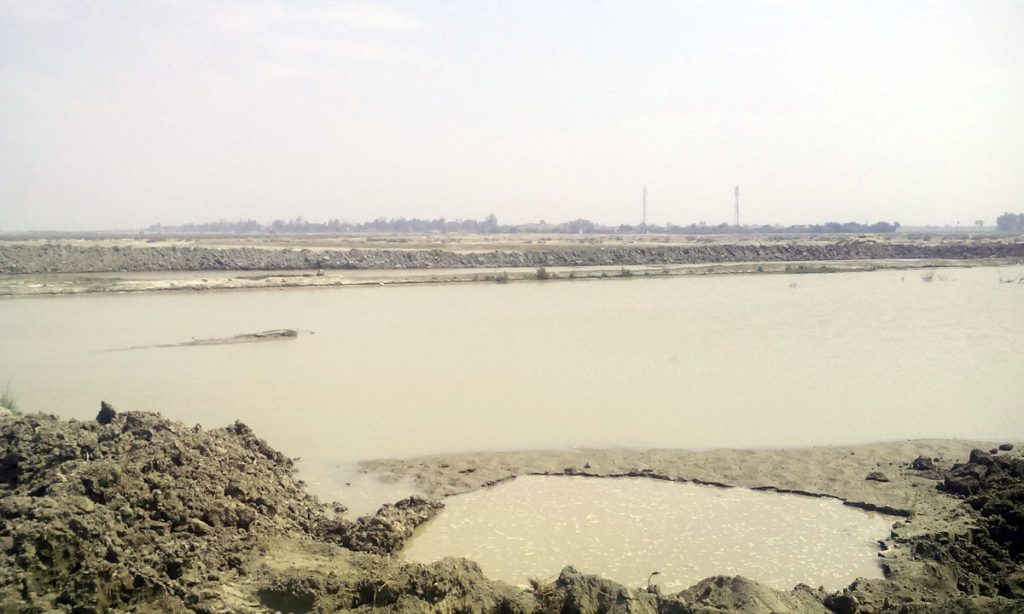 Peshawar: The October 26 earthquake may have delayed the donor's conference scheduled on Nov 3 to support reconstruction of Chitral district devastated by floods this year, but the increasing frequency of natural disasters calls for deeper engagement with climate than strategies responding to the havoc it plays with people and places, say climate experts.
Like the series of natural disasters – frequent earthquakes and floods unprecedented in the history of the country, or for that matter the region – that pose an ever-increasing challenge for authorities to respond to the trail of tragedy they leave, the disastrous floods of Chitral District in July-August this year may be unparalleled in the destruction they caused but they were hardly unexpected.
According to Hamid Ahmed Mir, field manager of the UNDP funded Glacial Lake Outburst Floods (GLOFs) project for Chitral district who has witnessed at least eight glacial lake outburst floods from 2000 to 2010, they were a "tipping point" in a series of floods that have increased in frequency over the years.
Compared to the eight flood events in ten years between 2000 to 2010, says Mir, there have been seven between 2010 and 2015.
"Large scale occurrence of GLOF and widespread destruction did not come all at once; rather, it was a tipping point of similar incidents happening in isolation over past many years," Mir told News Lens.
On July 15, 2015, at around 2:00am the residents of Broz village, located some 15 kilometers from Chitral town had to scamper to safer places following heavy flooding in the Broz Nullah. It was followed by unprecedented torrential rains causing the local lakes to swell, the surging water hitting remote mountainous villages throughout the district.
The flooding triggered by the phenomenon called Glacial Lake Outburst Floods (GLOFs), beginning July 15 continued intermittently through July 16, 19, 24, 28 and August 02 in both the Chitral and Mastuj subdivisions of the district, causing flooding in 48 tributaries of River Chitral.
Damage Need Assessment (DNA) conducted by district administration – a copy is which is available with News Lens – puts death toll from flash floods at 36 across the district. The floods washed away large chunks of land throughout the district besides destroying houses, standing crops and fruit-laden trees. Damages to infrastructure and livelihood are estimated to be over Rs 1.4 billion.
The DNA report also acknowledges climatic vulnerability of the district noting that all climate variables, particularly temperature and precipitation are showing an upward trend. It notes that the Chitral River receives much of its inflow from glacial melt and hot and humid conditions due to global warming have increased the glacial melt resulting in flash floods and GLOFs.
Climate Change Vulnerability Index ranks Pakistan among the 32 countries facing extreme risks based on the evaluation of population vulnerability to climate risks.
Mir says that the Chitral terrain – in the mountainous northern Pakistan that freezes over in winters – is dotted by over 540 glaciers and a 2001 report from Katmandu based International Center for Integrated Mountain Development (ICIMOD) puts the glacial lakes across the district at 187.
He said that a Pakistan Metrological Department (PMD) 2013-14 report has lowered this number of glacial lake to 116. However, number of potentially dangerous lake has gone up from 1 to 3.
"Madaklasht, Golen /Laspur and Arakari are potentially dangerous lakes and 16 out of 34 valleys of the district vulnerable to similar incidents," he said, adding that it translates into about 50 percent of total area.
The other factor that contributed to the intensity of the rains, said Mir, was extension of monsoon to the area. "It increased humidity to 70-80 percent this summer, as compared to 40 to 50 percent in the previous years," Mir said.
He foresees recurrence of similar incidents in the coming years and says the situation would worsen over the coming years. "More monsoons, more destruction," he said.
However, when it comes to vulnerability to the impact of rains, why Chitral? Says Mir: "Chitral has a dry temperate climate and there is less vegetation on the slopes and excess of loose soil caused by over-grazing and other human activities, which results into floods in case of rains."
To cope with looming environmental disasters, he says, one has to look beyond normal circumstances. "We are faced with difficult situation and it requires us to take drastic actions," he said. He proposes to build check-dams to contain flow of smaller streams in remote valleys as well pasture management.
"There are around 8,000 goats grazing in the Golen valley alone and it has huge consequences for the local eco-system," Mir said.
Another worrying factor exacerbating the impact of climate change in northern Pakistan is the change in the mood of monsoon. Till 2010, monsoon had not moved beyond its traditional zone including Kashmir, Lahore, Rawalpindi and Hazara regions, says Syed Mushtaq Ali Shah, regional director for Pakistan Metrological Department (PMD).
"Monsoon moved into Swat, Peshawar, Kohat and Parachinar areas for the first time in 2010, causing summer rains in these areas," says Shah. "Now the monsoon system has reached Chitral and Gilgit Baltistan [in northern Pakistan] and beyond."
Shah says that usually a glacier temperature stands at around 0 degree and it starts melting at 4 C. "The temperature of monsoon rain is around 10-15 degree centigrade and when it falls on frozen snow, it starts melting at a quick pace," he said.
He says the rising temperature of the district also contributes to melting of glaciers: "It is for the second year that the district temperature is going above 35 degree centigrade, which ultimately quickens the melting rate."
He said that glacial lakes that usually receive melting water at much slower rate could not withstand increasing melt that quickly eats into the banks of a glacier and spill out, causing flood.
Most of the flooding incidents in Chitral were caused by GLOFs, as the highest amount of rain recorded at any given time has not exceeded 15-20 millimeters. Shah also foresees that the situation in Chitral is bound to deteriorate with passage of time. "We need to study the situation in great depth in order to be able to control it effectively," he Shah.
The district government Disaster Needs Assessment (DNA) report says that analysis of past disasters indicates an upward trend in GLOF events. It notes that immediate outcome of rapid glacial melting is GLOF; its long term outcome is water scarcity and droughts.
"For the mountainous population living downstream the glaciers, GLOFs are the greatest hazards which are being reinforced by climate change and global warming in terms of frequency and vulnerability," it reads.
Provincial Disaster Management Authority (PDMA) spokesperson Latifur Rehman said that flooding in Chitral was an unusual phenomenon that had no parallel in history. He said that the department was in process of the compiling damage need assessment report besides reconstruction and rehabilitation of flood affected people.
The PDMA that had organized the donor conference to gather funds for Chitral reconstruction in Islamabad on November 3 will now announce a new date for the conference delayed by the October 26 earthquake that killed an estimated 400 people in Pakistan.