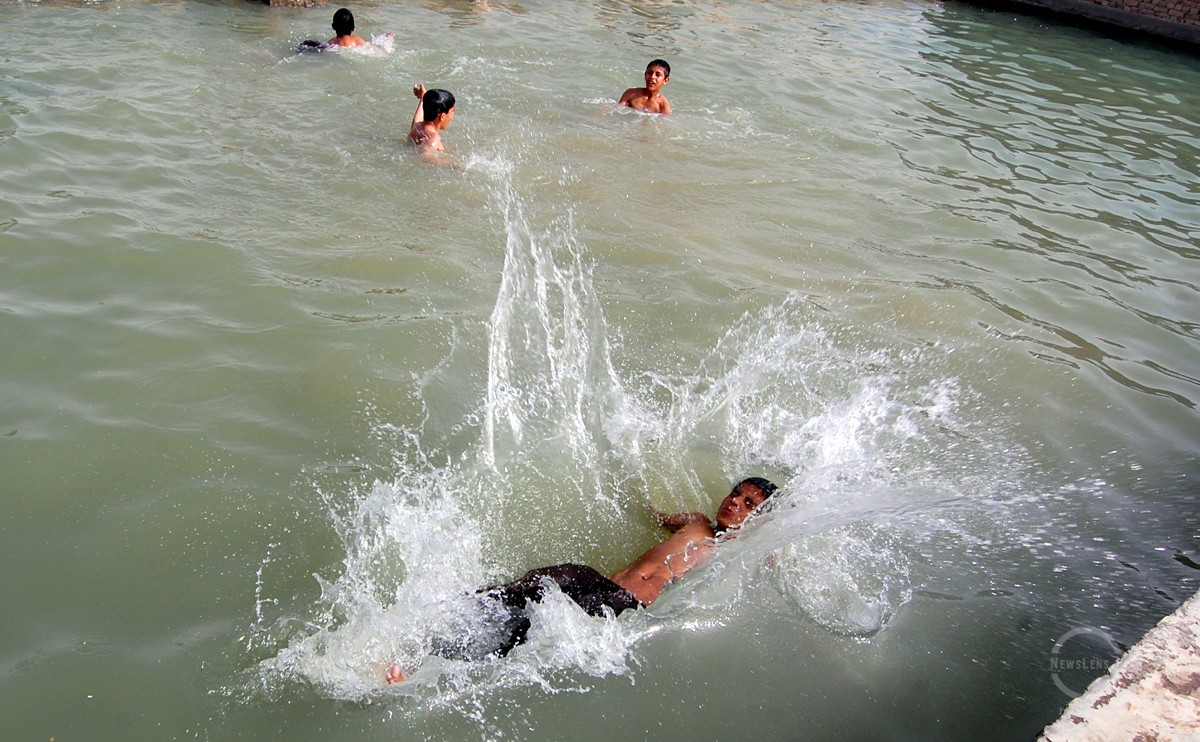 Lahore: Pakistan will be the only country in South Asia that is going to face water shortage in the next decade hence posing a great threat to human civilization.
According to United Nation Report, 45 countries are going to face water shortage by 2025. Pakistan is also going towards a critical situation where drought is possible. The report also includes that in Pakistan by 2025, the water shortage would be more than 102 billion square meters.
Water expert Dr Munawar Sabir told News Lens Pakistan, "In the next decade, Pakistan will be at worst condition in terms of water availability while countries like India, Bangladesh and China will have more water than the demand."
"In 1950, water supply was 5300 square meter per person in Pakistan which has now decreased to 1200 and there is a possibility that it may fall to less than 1000 in the next ten years," said Sabir. Moreover in 2025, the water demand would be around 335 billion square meters annually but the availability is going to be around 235, he added.
He says that the global water industry generates revenue of more than $450 billion annually that is expanding with the passage of time that means that water is indispensable for a prolific and affluent economy.
Water experts believe that greenhouse effect, unexpected climate change and global warming are really disturbing the ecosystem. Some countries are planning to save future of their coming generations by building huge reservoirs and opting the method of less water consumption along with recycling units.
World Wide Fund (WWF) Pakistan chapter has issued a detailed report on water scarcity in the future. According to the report, an enormous number of tube wells in the rural area are a big cause of lowering water levels.
Director General WWF Pakistan Hammad Naqi Khan told News Lens Pakistan that the water depth has reached to 40 meters in big cities of Pakistan due to excessive pumping and this will increase to more than 70 meters in the next couple of years.
"If this trend continues, the depth will get lower than 100 meters which will be fatal for agricultural lands. Due to unnecessary extraction the water table depth is diminishing 0.55 m (1.5 ft) per annum. Moreover, this pumping may disturb underground water quality that will be injurious to human health and agriculture," he said.
Rapid population expansion, urbanization, vegetation destruction and deforestation are also the prime sources of water scarcity in Pakistan, Manager Water Security and Stewardship WWF Ali Husnain told News Lens Pakistan.
"Water, air and land pollution contributes in the reduction of water quality. In addition, climate change needs good planning to avoid flood or famine in future, but, unfortunately we don't see any hurry for Pakistan government in building large reservoirs or any policy to face climate change", he further states.
Water expert Dr. Sarwar Qureshi believes that the people don't have any sense of water preservation due to illiteracy. Furthermore, common people don't see cutting trees a dangerous trend that can play a dangerous role in climate change.
"In rural areas countrymen use excessive water for crops. It is a fact that 70 percent of the world water is being used in agriculture, but around 60 percent of this water is wasted due to the leaky irrigation system and inefficient methods," Sarwar said.
All experts and environmentalists believe that policies of building dams, recycling plants in urban areas, appropriate and efficient agriculture systems can prevent nation to starve or to avoid drought in future.
Vice Chairman Indus Water Treaty Pakistan M. Yousaf Sarwar believes that Pakistan must start building dams even under Indus Water Treaty to save future of next generation.
"India is already building 40 dams on Jhelum and Chenab rivers. By building these dams, India would hold almost 90 percent of the water that is against the treaty. If it happens we will have to face 11 percent more water scarcity in summer and 27 percent in winter," he told News Lens Pakistan.
Federal minister for Climate Change Senator Mushahidullah Khan has advised his ministry to prepare a work plan to cope with current and upcoming threats from climate change.
In his statement, released on 6th April 2015, the minister warned that continuing habits of water waste would affect water sources badly. He pushed his department to start awareness programs for public in which they must be informed about the water scarcity.