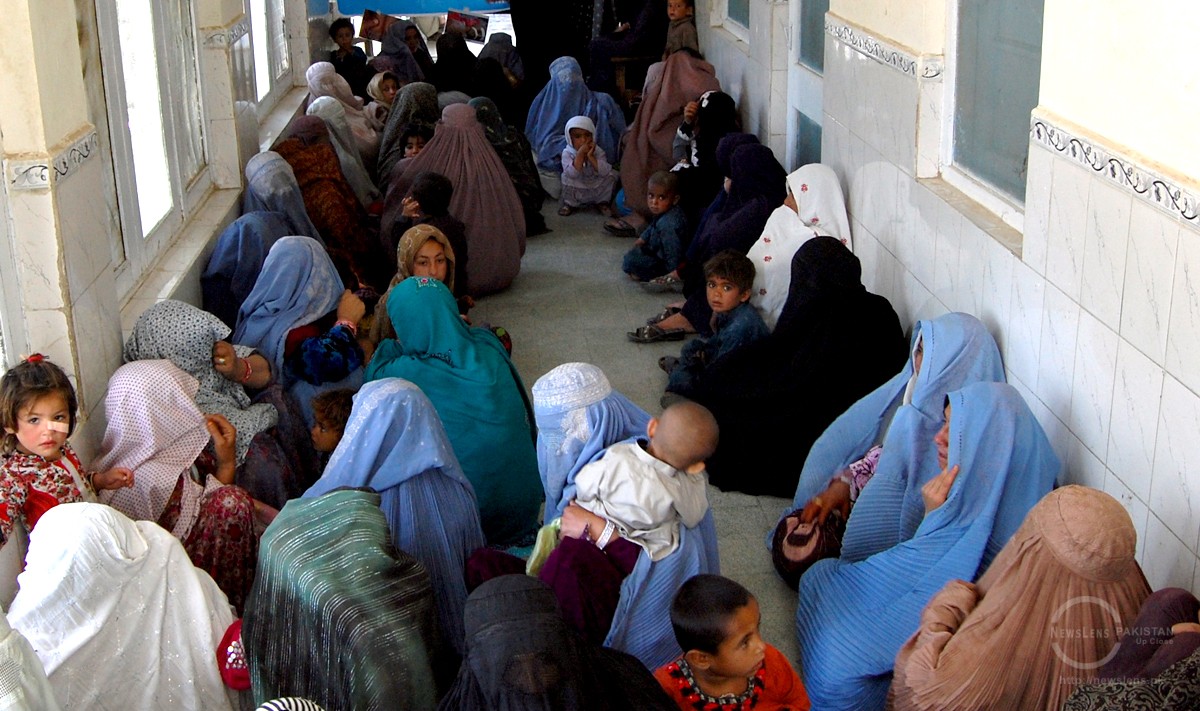 Quetta: For 40 years, Bibi Samia has quietly endured the shame and suffering of a debilitating condition carrying a huge social stigma. Not even her close relatives in rural Harnai, a remote district in Balochistan, knew about her disease – even when they were the only support system available to a woman in the largely tribal setting of the province.
"When i first developed fistula at the age of 25, I only told my husband," a shy Samia (name changed to prevent stigma), 65, told News Lens through her doctor.
For 20 years, she and her husband were clueless about her condition, not knowing she had developed fistula or the faecal incontinence, also known as bowel incontinence. It was only when she visited a hospital in Quetta, the provincial capital of Balochistan 400 km from her village in Harnai, for a medical examination that the diagnosis was made.
Obstetric fistula Patients is a medical condition in which a fistula (hole) develops between either between the rectum and vagina or between the bladder and vagina after a severe or failed childbirth, leading to urinary or faecal incontinence.
Balochistan is the largest province of Pakistan, constituting 48 per cent of the total area of Pakistan. Its population is spread over remote rural areas. Lack of infrastructure, primary health care , education and awareness of disease makes the province's population susceptible to disease. According to health authorities, the province has a high incidence of fistulae.
A 2014 research conducted by Department of Obstetrics & Gynaecology, Bolan Medical Complex Hospital Quetta says "more than 90% deliveries are conducted by traditional birth attendants at home therefore women are at high risk of developing obstetric fistulae."
"Data on obstetric fistula is lacking in Pakistan, but it is estimated that approximately 5000 to 8000 cases occur each year," says the research paper Clinical Pattern and Outcome of Vesicovaginal Fistulae.
The International Fistula Day is observed on May 23rd every year. This year, doctors in the provincial capital have been working to sensitize the people about the disease. Prof. Saddat Khan, Principal Bolan Medical College, said it was the poor who suffered most from the debilitating and socially embarrassing condition of obstetric fistula.
"Many girls and women are shunned by their families and communities, deepening their poverty and accentuating their suffering," said Khan. "The government should do more to prevent the fistula as facilitation centers are only located in the provincial capital. They are not sufficient for the needs of the entire population. Obstetric fistula has been virtually eliminated in industrialized nations. It is preventable and, in most cases, can be surgically repaired."
What makes the situation in Balochistan particularly grave is the fact that many families hide the condition of their patients due to the social stigma associated with fistula. Many other have no access to a proper health facility.
"80 per cent of our patients have obstetric fistula and the remaining 15 per cent are Iatrogenic fistula patients," said United Nations Population Fund (UNFPA) provincial coordinator Ahsan Tabasum that, in collaboration with the Pakistan National Forum for Women Health, is working on fistula prevention in Balochistan.
UNFPA runs three centres for fistula treatment here in Balochistan but they are in Quetta city only. The centres are based in Mission Hospital Quetta, the Provincial Sandeman Hospital and Bolan Medical Hospital Quetta. It also runs a rehabilitation and social re-integration centre for fistula patients.
In a province with 32 districts, stretched over 347,190 km² – a territory that exceeds the landmass of United Kingdom – it is not easy for the patients to reach the capital Quetta to get medical treatment.
Tabasum said the patients were  treated  free in Balochistan in the three hospitals. "We have 9 expert surgeons in the hospital working voluntarily."
He said the provincial government and the health department was neglecting fistula,  a serious maternal health condition. Since 2006, UNFPA had treated some 515 patients with "a success rate of over 90%".
However, many more patients await their turn to be treated at the centers that are not enough to deal with the magnitude of the problem. "Many patients are still waiting for their turn – a majority of them are Iatrogenic fistula patients that cannot be operated upon immediately," said Tabassum. Latrogenic fistula is an injury caused by a healthcare provider when the bladder or rectum is accidentally cut, leading to urinal or faecal incontinence.
While UNFPA treats patients and provides them support and training to start small business to empower them, many patients in remote areas cannot avail the assistance and the number of the patients has increased over the years in Balochistan.
According to UNFPA, most of the cases in remote areas go unreported and many patients perish from the disease.There is lack of the support from the government at all levels and doctors do not refer patients to hospitals at the right time.
Likewise, the number of the Iatrogenic fistula cases is increasing annually due to medical malpractice and lack of training of the medical practitioners. A major cause of latrogenic fistula in Balochistan is hysterectomies – a surgical operation to remove all or part of the womb – conducted by unskilled doctors in peripheries of the cities all around the province and also in remote districts.
Professor Tasneem Asraf, also associated with UNFPA, said the UN population fund had directly supported more than 3,400 women and girls to receive surgical treatment for fistula in Pakistan through 7 regional centers in the country.
"The UNFPA campaign is based on three key strategies of prevention, treatment and social reintegration of survivors," said Prof. Ashraf.
Meanwhile, Samia's husband accompanies her every time she travels to Quetta from Harnai district. She is reluctant to talk about her condition, a taboo.
"We had no idea it would linger on for four decades," she manages to whisper through her veil.