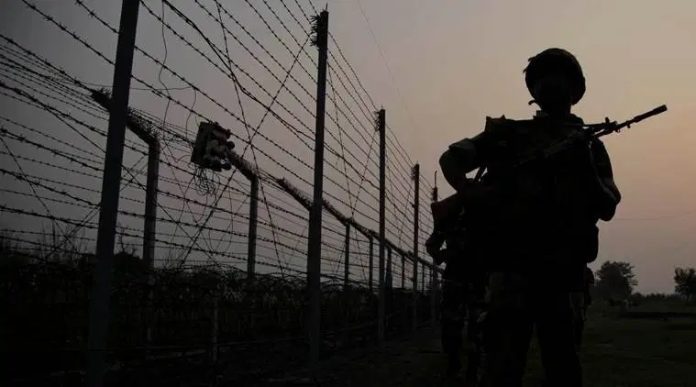 Umerkot: Years after Partition and despite decades of instability between India and Pakistan; borders could not break the bond of love and affection between divided families on either side of the Thar Desert. They are eager to meet, but strict laws and bans by Indian government to visit the Indian bordering districts coupled with poverty have chained their desires.
People living in districts at Pak-India border in Sindh and Rajasthan provinces, have blood ties with each other. Many died with the unfulfilled dream of seeing their loved ones and tying knots; attending their marriage rituals and funerals.
According to Maanbai, wife of a labourer in Umerkot, she was married at the tender age of 15 years, and now she is 51. Soon after marriage, she migrated to Pakistan and could not see her parents again. She could not see the births, the deaths and the happiness of her blood relatives. "Fifteen years ago, they used to send recorded audio cassettes to their relatives living on other side of border whenever anyone would visit through the Wagah border and letters were received after months."
She told News Lens Pakistan, "I thank the advancement of social media, because now my son can show me photos of relatives, videos  and make them talk on whatsapp or imo but I am unable to meet them as I am poor and my husband is a labourer."
Khokhrapar-Monabao train service was started but four Indian bordering districts including Barmer, Jaisalmer, Bhuj, and Palhanpur were not the permitted stopovers for the train and her relatives lived in those districts. She would love to see her not-so-near but dear ones at least once in her lifetime.
Another woman, Amnat, a resident of Umerkot had a similar story to tell. She was married at the age of 17 and her husband took her to Pakistan. She is presently 60 years old. Her husband passed away 23 years ago. "My father Abdul Karim had also migrated from Rajasthan, India to Umerkot". One of reasons is that his daughter lives in Sindh. Her father narrated to her that at the time of Pak-India wars, Muslims in the border's districts were robbed, killed and harassed by the Indian army, hence he preferred to migrate to a Muslim country like Pakistan to avoid confrontation.
She recalled that in the 1965 War between Pakistan and India; Kaprao, Konro, Boath, Vauri, Gahrr jo Tarr, Dedohar, Mate ka Talha, Bijhrar, and a number of other border villages were evacuated. Four persons were killed in the village of Kaprao by the Indian Army based on the allegations that they had been helping the Pakistan Army.
Arbab Nek Muhammad, a renowned writer, told News Lens Pakistan that on October 24, 2013, an Indian, Abu Bakar, 50, resident of Amyani village of Barmer district, crossed into Pakistani near his village Gadhro. When he was asked why he crossed barbed wires with no fear of arrest or injury, he replied that he desperately wanted to see his relatives who were at a short distance from his village and he had no money to travel, hence he did it
According to Muhammad Saleem Arisar, father of Manbai (divided daughter living in Umerkot), resident of an Indian village Matte Ka Talha district Barmer, narrated his story to News Lens Pakistan on the phone, saying that when a family member passes away, they console their hearts and minds by admitting that he is no more, but it is difficult to forget their child who is alive and well, but across the border and they are separated by fences and distance.
Kirshan Sharma, a human rights defender and chairman of Rights of Expression, Assembly, Association and Thought (REAT) said while Talking to News Lens, "Years after the partition and despite decades of instability between India and Pakistan; borders between the two countries could not break the ties between families on either side of the Thar Desert."
He recalled that this was one of the most massive migrations in human history, where millions of Hindus (traders), Sikhs and Jains migrated to India. The borders between Sindh and Rajasthan divided them into Indians and Pakistanis, thus severing their mutual social, cultural and historical bonds.
He said it is astounding how 2 kilometers is the equivalent to 200 kilometers for these people when visiting their family due to the fences. The Khokhrapar train route was opened during Musharraf's rule, and thousands of families were able to meet their relatives. Pakistani Hindus have their sacred places (Teerath Asthan) in India so they faced difficulties in offering their religious pilgrimage.
Analysts believe that mistrust between Pakistan and India has created confusion and fear amongst millions of people on both sides of the border. Partition has split the people of Thar, Umerkot, Badin, Sanghar, Rahimyar Khan and Bahawalpur. Opening the border for trade and visits can not only help in improving cultural relations with Rajasthan and Gujrat amongst others, but it can also bring economic opportunities for the people of Thar (Sindh) and Rajasthan (India).
According to Abdul Haleem Soomro, a social activist, borders have celebrations on both sides. They celebrate religious festivals such as Dewali and eids, and occasions of happiness such as weddings and birthdays as well as sorrowful occasions such as funerals. Unfortunately, these families cannot share their happiness, or their sorrow, with their loved ones due to this division. During the 1971 War, people from the Mirpurkhas division had to migrate to India, leaving their property behind which are now called enemy's property.
"We cannot begin to fathom the sentiments they hold for their dearest ones, their dreams, the panic of separation felt by them and their loss," said Soomro. He added that the people of the desert are living on dunes of sand where borders have divided them physically but culturally and socially it could not sever their relations with each other. They can listen to the drums and the gaily songs of marriage ceremonies, but cannot attend the celebration. They announce the obituaries on a loudspeaker in the mosque to inform the dear ones of the departed as they have been separated by the border.
A peace activist Beena Sarwar told News Lens Pakistan, "Some people may have their reservations regarding the behaviour of the governments and the security establishments, but they are nonetheless curious about 'the other side', especially the youth who want to travel to sample food, to experience the culture and music across the border.
She said the visa regimes of both countries are designed to keep people apart. She said that she cannot think of any other neighbouring countries that behave like this – restrictions on the number of cities you can visit, your entry-exit points, police reporting, all designed to deter travel.